Many people assume that Turkey is only a summer destination. It's true that during the summer months, the sun shines endlessly, the rain stays away (mostly), and temperatures soar, making the beaches and the islands incredible destinations. There is more than enough to do during the summer months, but have you ever thought about visiting Turkey in the winter?
Yes, Turkey is a winter destination too!
During the winter months, Turkey's airports are still busy, the cities are buzzing, and there is plenty to see and do. If you're not sure if winter in Turkey is for you, maybe this little chat will change your mind!
Reasons Why Winter In Turkey Is A Good Idea
I could give you endless reasons, but let's keep it succinct.
Less Crowds
Istanbul is busy no matter what the month but the rest of the country tends to be a little quieter during the winter months. That means you can explore without feeling hot and sticky and having to pick your way through the crowds. There is a huge amount of history to appreciate in Turkey and less crowds gives you a better chance of enjoying it. Of course, it also makes travelling from A to B much, much easier.
Outside of the summer months, you'll find that prices to most of Turkey are far lower, including airfares and hotels. All of this means you can see plenty, have a great time, and save cash at the same time.
A Different Experience
During the winter months you'll get a more traditional feel to your stay. During the summer months Turkey is a very international place and the holiday resorts on the south coast feel barely Turkish at times. However, no matter where you go during the winter, you'll be able to have a really authentic experience.
Great Weather (Mostly)
I'm not going to lie and say that Turkey doesn't get cold, because in some places it really does, however for the most part, it's far milder and drier than much of Europe. I'll get onto weather shortly, because the sheer size of Turkey means that you can't lump the entire country into one weather zone.
Amazing Views
Less crowds, great weather, and plenty to see and od means you can certainly fill up your phone with some Insta-worthy snaps. When it snows (occasionally it does), those photos will go from wow to winter wonderland wow in seconds.
Weather In Turkey During Winter
The weather varies wildly according to where you go and when you go. Winter officially starts in the middle of December, although you might get the odd chilly day towards the end of November. The winter season lasts until the middle of March but in some places, particularly the south coast, February days can be very pleasant indeed.
The coldest place in the whole of Turkey is Erzurum during winter, located in the east of the country, however Ankara is also a very cold spot, sometimes heading into minus numbers. Snow here is very possible much of the time. If you're visiting
Istanbul (highly recommended), be ready for a truly mixed bag of weather. It can be warm and sunny one day, cold and rainy another, and then it randomly snows. However, during March, you'll start to see the start of spring appearing.
If you're heading to the south coast, perhaps to Bodrum, Izmir, Marmaris, or Antalya, you can expect temperature in the mid-20s through February and March with very little rain. However, December and January will require an umbrella on hand for winter storms.
Visiting Turkey during the winter months means packing for every eventuality and knowing that you probably won't have a total washout, no matter when you visit.
Things To See/Do In Turkey During The Winter Months
Let's get down to the good stuff now. What can you see and do during the winter in Turkey? It's not possible to give you an exhaustive list, so let's pick out some definite highlights.
Istanbul And It's Endless History (And Shopping)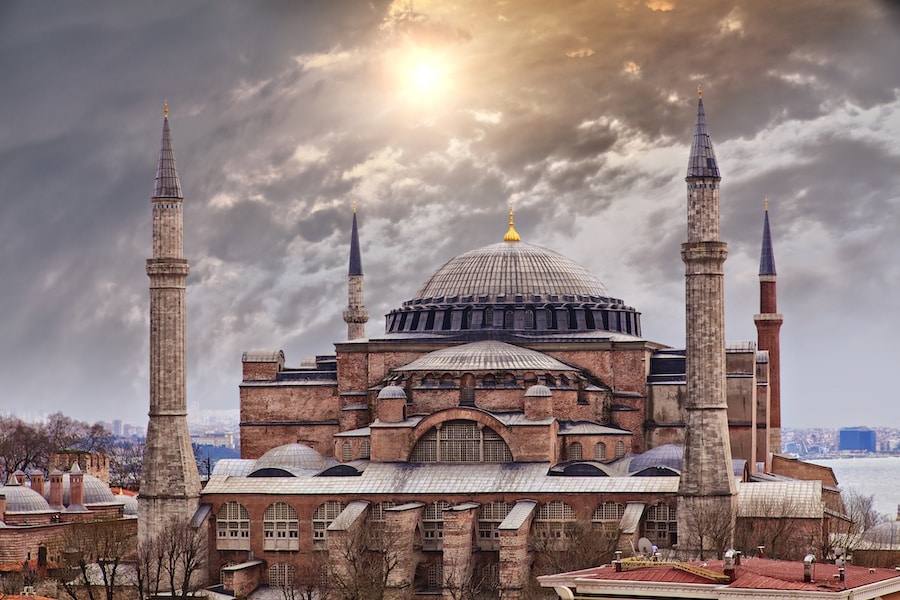 There is more history in Istanbul than most entire countries can boast. Formerly known as Constantinople, Istanbul has fantastically preserved mosques, churches, palaces, and stately buildings that will take your breath away.
Dolmabahce Palace is a must do, along with Blue Mosque, Hagia Sophia, and Topkapi Palace.
If you want to do a spot of Christmas or souvenir shopping whilst you're away, you won't struggle to spend your cash in Istanbul! Whether you want to haggle in the Grand Bazaar, buy from one of the street markets, or head to one of the many huge shopping malls, such as Mall of Istanbul or Cevihir, you'll be spoilt for choice.